ESPORTS PLATFORM
BattleArena – establishing a gamers "social network" based on esports tournaments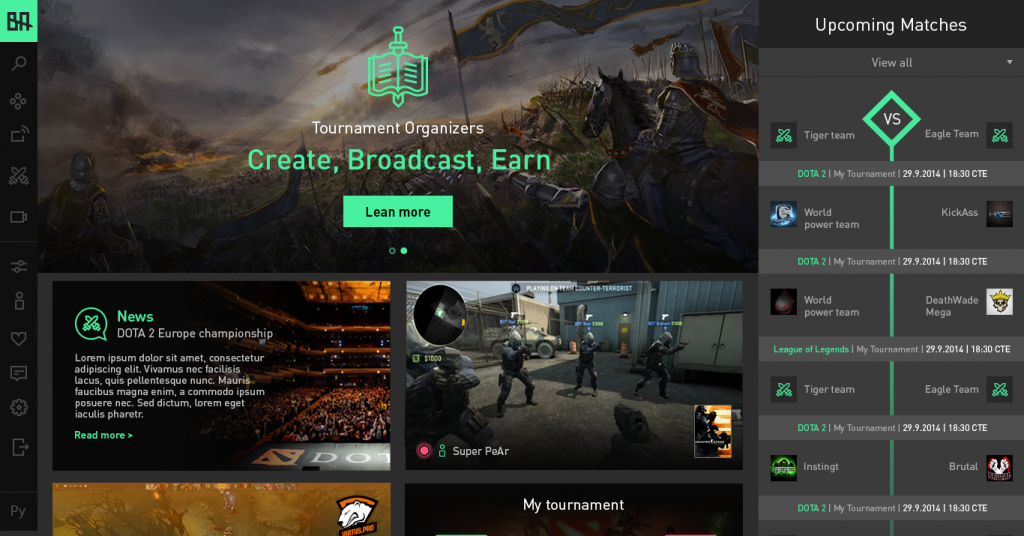 Battle Tested
Home of the two-day MegaFon BattleArena tournament, the service saw over 3M page views for that tournament alone, with concurrent viewership in the hundreds of thousands. In attendance were 4 of the world's best DOTA2 pro teams at the time: Natus Vincere, Virtus.Pro, Team Empire, and Team Tinker.
In recent years live streaming technologies have emerged that let any person broadcast their own video content to the world. These technologies were quickly picked up on by tech-savvy gamers who started streaming their gaming experiences to a previously untapped audience. With the rise in demand for live video-game streaming many gamers and viewers find that existing solutions reach short of the mark.
Based on the white-label Game Enders platform, BattleArena provides a worldwide, mass-market esports tournament management platform for amateurs and pro gamers.
BattleArena was launched as a complete video-game tournament & streaming platform which caters to both content creators (streamers and tournament organizers) and viewers: streamers and tournament organizers find in it a place to reach out to viewers, to create their own personal brand, and to reap the financial rewards of establishing a wide following; viewers find in it a place to follow their favorite games and streamers, to watch exciting esports tournaments, to talk to like-minded gamers, and to enjoy endless hours of fun and exciting video game streaming content.